The Key Steps Toward a Great Company Culture
What is company culture, and does your company have one? Company culture is defined by a number of aspects, including leadership and employee behaviors. Other aspects, according to William Craig (a contributing writer to Forbes), include the company's: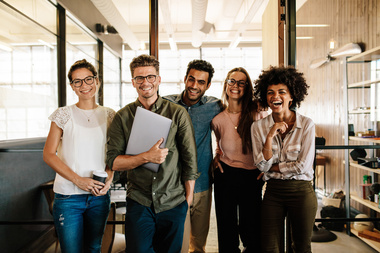 Vision
Values
Norms
Systems
Symbols
Language
Assumptions
Beliefs
Habits
Does your company have a culture? Yes. Does it matter that you are a sole proprietor? No. Every company, no matter how big or how small, has a culture.
Company culture is not something that employees bring with them. Rather it is a pre-existing condition — one that can be brought to good health if it's not already there.
A spokesperson from a global employer branding, employee communications, and recruitment advertising firm explains that a company's culture depends partially on the business. A high-pressure sales organization will not have the same culture as a community hospital.
He offers these tips on how to improve a company's culture:
Start at the top: A company's leaders need to clearly and continuously communicate and exemplify what the culture must be to make the company successful.
Hire for the culture you want to achieve: If you're looking to create an aggressive, competitive company culture, hire aggressive, competitive people. If you'd like to create a compassionate, encouraging atmosphere, hire compassionate, encouraging people.
Educate from day one: Company culture doesn't mean "Here's the break room" during employee orientation. It's more like what's in the break room. Is there a single-cup coffee maker with chai tea and hot chocolate options, or a tired-looking coffee vending machine from the '60s? Is there a foosball table in addition to maple lunch tables, or just standard-issue cafeteria tables? Also recommended are fun and engaging presentations during orientation and throughout the year that make clear what the culture is and the value of embracing it.
A Virginia-based HR consultant offers this advice to her clients who are looking to upgrade their company culture:
Culture has to be authentic and address current issues facing employees. Make sure they have what they need to do their jobs successfully. And even if you think they do have what they need, ask them what they need anyway.
Managers must define employee expectations. Most employees don't want to "float" with no direction, so she has her clients define 30-, 60- and 90-day goals and yearly goals for every position.
If you aren't over-communicating, you're not communicating enough. Say your changes aloud and, just as important, give the reasons behind them.
A Colorado corporate consultant offers these guidelines:
Create "ownership" at every level.
Empower the people who are affected by a decision to make that decision.
Replace the time-based culture with a results-based culture.
Company culture isn't one-size-fits-all. Treat these tips as a guide to get you started and tweak as necessary to achieve the culture that suits your business style and company values. Don't forget, we're here to help: give us a call.